September 5th is Bacon Day. Celebrate with bacon all day long! Bacon breakfasts, bacon snacks, bacon dinner… even some Chocolate covered bacon for dessert! Enjoy these bacon recipes… we've found over 50 of the best bacon recipes on the web for you to make this Bacon Day the best one yet!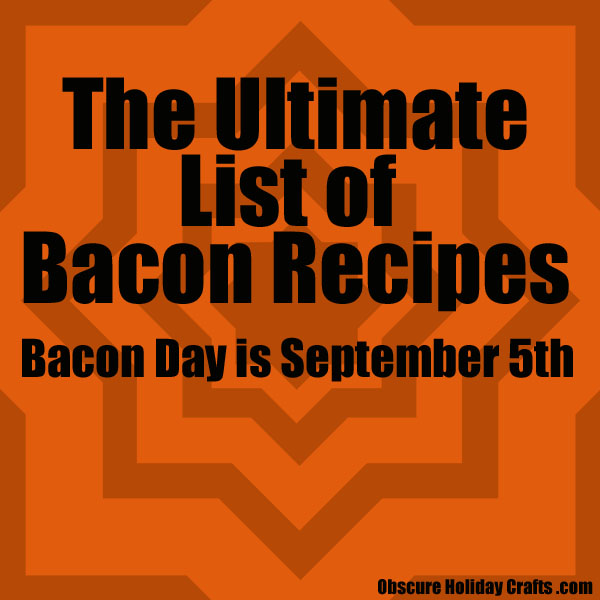 Breakfast Bacon Recipes
Start your day off right – with one of these fabulous bacon breakfast recipies! Of course you could always fry some up on the side of whatever you're having… but these delicious bites of bacon are sure to satisfy!
Maple Bacon Butter (on your pancakes or Waffles)
Bacon Monkey Bread
Chocolate Chip Bacon Pancakes
Bacon Feta Breakfast Burrito
Bacon Breakfast Potatoes
Spinach and Cheese Bacon Souffle
Bourbon Bacon Jam
Bacon Pancake Dippers
Cheesy Bacon Potato Fritata
Bacon Asparagus Breakfast Pizza
Maple Glazed Yeast Donuts topped with Bacon
Bacon Breakfast Casserole
Lunch Bacon Recipes
A mid-day bit of bacon will keep you going… and satisfy any hungry tummy!
Bacon Avocado Strawberry Wraps
Roasted Garlic Bacon Mac & Cheese
BBQ Chicken Bacon Ranch Salad
Bacon & Ranch Chicken Kabobs
BBQ Bacon Dogs
Bacon Blue Cheese Chicken Wraps
Ranch BLT Lettuce Wraps
Loaded Baked Potato Salad
Tomato Bacon Couscous Salad
Grilled Cheese Bacon Guac Sandwich
Bacon Snack Recipes
Need a little sweet-salty bacon as a pick-me-up mid day? These bacon snack recipes will get you through until dinner.
Candied Bacon
Bacon Cheddar Deviled Eggs
Bacon Wrapped Jalepenos
Cheddar Bacon Ranch Pinwheels
Bacon Avocado Crostini
Bacon Cheddar Dip
Bacon Mini Quiche Cups
Bacon Jalapeno Dip
Bacon Wrapped Meatballs
Strawberry Bacon Pizza
Bacon Spinach Blossoms
Bacon Cheese Ball
Buffalo Chicken Bacon Cheese Fries
Chocolate dipped Bacon Pretzels
Bacon Cheeze-it Nachos
Dinner Bacon Recipes
Bring the family together with one of these delicious Bacon Dinner Recipes. Celebrate successes, or mourn a tough day… everything is better with bacon!
Bacon Wrapped BBQ Chicken
Bacon Avocado Potato Salad
Bacon Pesto Pasta
Bacon Wrapped Asparagus
Roasted Brussels Sprouts with Bacon & Almonds
Cheesy Chicken Bacon Pasta
Bacon Thyme Mashed Cauliflower
Bacon Breaded Fried Shrimp
Cheddar Bacon Ranch Potato Salad
Bacon Stuffed Cheeseburgers
Avocado Bacon Pasta Salad
Bacon Taquitos
Bacon Corn Casserole
Bacon & Green Beans Side Dish
Bacon Dessert Recpies:
These amazing bacon dessert recipes are a fabulous way to end any day. Add the delicious sizzle of bacon to whatever your sweet tooth is craving!
Maple Bacon Cake Pops
Maple Bacon Cupcakes
The Ultimate Bacon Chocolate Cupcakes
Beer Bacon Cheese Cupcakes
Bacon Banana Split
Maple Cheesecake with Candied Bacon
Dark Chocolate Bacon Cupcakes
Still haven't had enough bacon? Make some Bacon infused Vodka!